Ad

Galaxy striking symmetrical design returns with one major difference: the use of recycled and eco-conscious materials.From repurposed glass to the color of the polished metal frame, beauty is second nature in this form.more products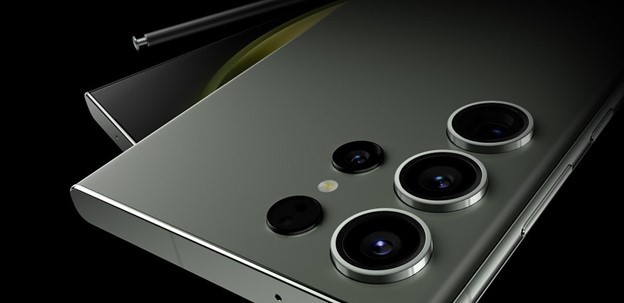 1CAMERA
Epically equipped-Samsung packed Galaxy's biggest sensor, light-absorbing pixels and video stabilization technology into one Pro-grade Camera, front camera 12MP Selfie Camera rear camera 12MP Ultra Wide Camera 200MP Wide-angle Camera 10MP 10x Optical Zoom Telephoto Camera.
NIGHTOGRAPHY CAMERA-Low light Camera action WIDE f2.2 Take crisp photos and videos, from dusk until dawn. Galaxy's most advanced camera sensor and fastest processor accommodate low light and reduce noise. And even the camera lens clears up the capture by toning down flare.
NIGHT PORTRAIT-Depth and dimension is where this Pro-grade Camera delivers. Gently blur the background to put your friends in focus and let DSLR-level details shine.
NIGHT VIDEO-Hit record to capture clear, smooth scenes packed with detail, even if they're backlit. It's Galaxy's most stable video in low light with superior OIS and noise-reducing tech keeping your scenes cinematic.
At night with lights from tall skyscrapers in the background. Even with dim lighting, the colors are vibrant and the picture quality is sharp.
ASTRO HYPERLAPSE-Transform a starry sky into a work of art. Turn on Hyperlapse to record night moves with bright clarity, speeding them up in post to show minutes of footage in stunning seconds.
HIGH RESOLUTION 200MP Wow-worthy resolution
Samsung doubled the resolution on the Wide-angle Camera, to deliver a clarity never before seen on Galaxy. Zoom and crop for a whole new shot without hitting the shutter — or leave it intact for brilliant detail, corner to corner. Working behind the scenes of every shot is an all-new adaptive pixel sensor for a gallery of vibrant, crisp 200-megapixel photos in any light.
EXPERT RAW-Raw power, from snap to edit Switch into Expert RAW to finesse in greater detail. Snap in 50MP for detailed, dynamic frames, or expand your repertoire with astrophoto, multiple exposure and other exposure features.
ASTROPHOTO-Grab more detail, even in the dark. Set exposure manually or let the camera choose, then point it skyward to capture planets and constellations with clarity.
MULTI EXPOSURE-Finesse in greater detail. Capture up to nine frames back to back, then bring them together to create a multiple exposure work of art. Or go manual to take your time between shots with a preview of how your layered masterpiece will blend.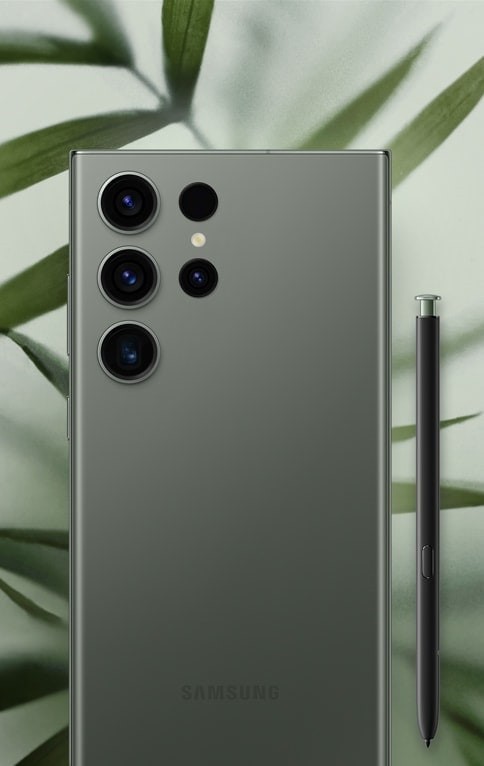 COLORS
Down to earth tones-Stay grounded with an array of earth-inspired hues. Crafted with natural dyes, each tone is elegant and elevated, yet completely down to earth.Green Phantom Black Cream
Two Galaxy S23 Ultra phones in Green. One stands upright and is seen from the rear. The other phone is seen from the side to show the floating camera design.
Two Galaxy S23 Ultra phones in Phantom Black. One stands upright and is seen from the rear. The other phone is seen from the side to show the floating camera design.
MATERIALS
Designed with the planet in mind-The use of conscious materials makes this our most eco-friendly smartphone ever. Recycled glass and PET film accent the phone's exterior, and box made from recycled paper makes it planet-loving from the moment it hits your hands.
Note's signature tool comes built in
S Pen keeps the legacy of Note alive. Plus, it helps you ditch the dependency on notebooks, making sketches and memos effortless and eco-friendly.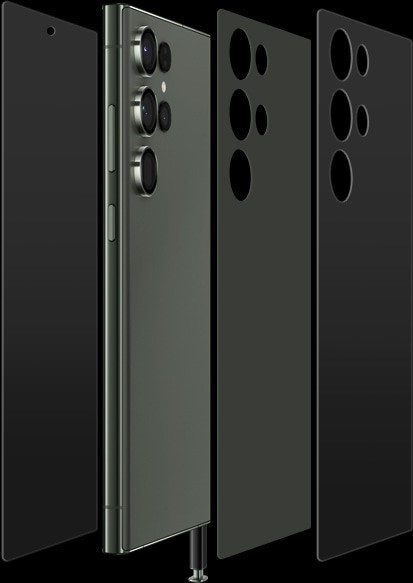 PERFORMANCE
Power for those who don't pause Maximize your free time with the most powerful chip on a Galaxy smartphone. Improved features across the board means everything from gaming to streaming is optimized and seamless — without draining the battery.
World's fastest Snapdragon
Snapdragon® 8 Gen 2 Mobile Platform for Galaxy Snapdragon is a trademark or registered trademark of Qualcomm Incorporated.

BATTERY
Bring on the boss battles-Meet the long-lasting battery made to fuel your victories. This intelligent 5000mAh (typical) battery saves power for go time, so you can game and stream into the night.
DISPLAY
A brighter future in sight Dynamic AMOLED 2X delivers clear, colorful details onscreen, whether dimmed down low or full-blast brightness. And 120Hz technology intelligently optimizes the refresh rate to smooth out action and save on battery.
PRODUCTIVITY WITH S PEN
Do more with every pen stroke Any pen can write words, but S Pen helps you capture them. Highlight event info from a poster or video, then simply tap to save the date straight into your calendar.
SMART SWITCH-We made keeping your data easy In just a simple Wi-Fi transfer or quick log in to your Samsung Account, you're all set. In even fewer steps, carry over your apps, photos, messages and more from any OS to your new phone.
PC CONTINUITY
Multitasking meets Multi control-Start on your phone and move as your ideas grow. With continuity across Galaxy devices, you can stick to a single mouse, keyboard or touchpad to drop text and images to your PC easily, then go back to the phone when it's time to run.
ONE UI
Your Galaxy, the way you like it Now it's easier than ever to set your phone up just for you. One UI maximizes customization, allowing you to pick almost every detail, from lock screens and themes to widgets and notifications.
SAMSUNG HEALTH
Wellness done your way Begin your journey toward your personal health goals with Galaxy Watch5 and your phone. Track sleep, exercise, body composition and more in Samsung Health to bring out your best self.GPS route feature only available on Galaxy Watch5 Pro. Requires GPX-format route file to be imported for hiking or cycling and route to be set as target in Samsung Health settings.
Note-We are not Sale any products to customer, we just describe the device specifications with price. The all information of this website is not 100% accurate we just collect this information from Samsung official website which is not verified.